Weddings
Sample Event


Join us on sample date


Give Special Meaning to Your Special Day with a Tax-Deductible Gift to the MMRF!
In lieu of Wedding or Special Occasion Party favors:
Make your event even more meaningful by turning it into a way to support the research efforts of the MMRF. Give a donation in honor of your guests or in honor or in memory of a loved one.
Favor:

Receive a personalized favor from the MMRF! Once your donation has been received (The MMRF recommends a minimum gift of $2 per guest.), we will e-mail you a PDF of your favor templates to print at home or at your local printer.

To order your favor templates, or for more information, please call (203) 652-0215 or send an e-mail to Brooke Roberts at robertsb@themmrf.org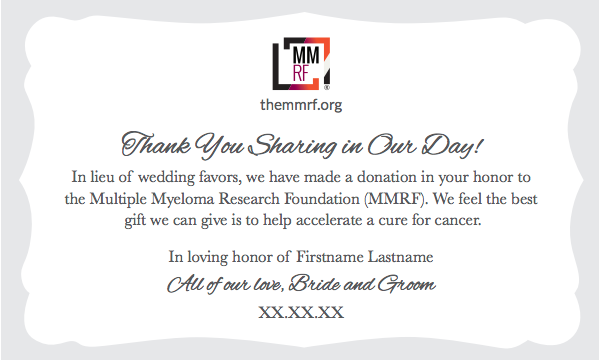 Wedding Favor
Wedding and Gift Registry:
Don't need another blender? Turn your day of love into longer lives for others.
In lieu of a traditional gift registry, ask your guests to contribute to your MMRF Tribute Page. Tribute pages come with photo albums, a guest book, and a link to make a donation in your honor. You will be able to create a short personal URL that's easy to remember, and be provided with an e-mail tool for inviting your friends and family to visit your wedding page. Create your Wedding and Gift Registry page today!
Honoring Edward Brens
Arlene's dad, Edward Brens, passed away in January 2016 from multiple myeloma after a courageous battle. When Arlene married Juan Figueora in April 2017, it was very difficult not having her dad by her side. So she found ways to honor him in every way that she could.
"One of the ways I chose to honor him was through the wedding favors. What a better way to honor his memory than to give to MMRF, an organization dedicated to finding a cure for the cancer that took him away from us." – Arlene